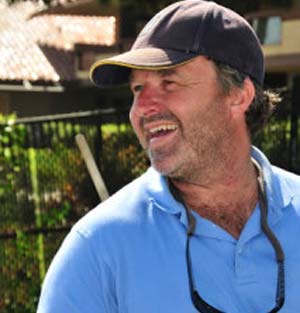 Owner: Laurence Sunderland
Education: Southampton Technical College, Southampton University, Ship Industrial Training Board (UK)
Services: Captain, Shipwright, Sailor, Manager, Instructor
Experience: more than 120,000 sea miles logged; SYM established 1990
Yachts Under Management: 10~12 (sail, power) long and short-term
Director:



WorldWindProductions.com
Laurence has combined his love for the ocean and his lifetime of adventure into the making of a new company – WorldWind Productions. Zac and Abby's historic sailing voyages have now been documented in three documentary DVDs.
Sunderlands Yacht Management has been owned and operated by British-trained Shipwright,  Laurence Sunderland since 1990.   Growing up on the southern coast of England, Laurence grew up on the water, learning to sail before learning to ride a bike.
From his beginnings in the UK, to his nine years in Australia, to his present home near Los Angeles, Laurence has been involved in seafaring for most of his life, learning a love of sailing and yachting from his parents at an early age.
He is now passing the passion on to his own children. Eldest son, Zac, left Los Angeles in summer 2008 at age 16, returned 13 months later at age 17, to become the youngest man to solo-sail around the world and the first person ever under 18 years. His cruising yacht, Intrepid, was completely outfitted, managed and maintained by Sunderlands Yacht Management.
Daughter, Abby, departed on her own solo circumnavigation attempt in January of 2010.  She is the youngest person to ever sail solo around Cape Horn in South America, often considered as the Mount Everest of sailing.
Operating primarily in the Los Angeles area and surrounds, Sunderlands Yacht Management manages numerous vessels based in Marina del Rey, providing services ranging from repairs and maintenance, teaching and writing, to hosting and
captaining pleasure cruises.
Trust Sunderlands Yacht Management to apply years of experience over the entire range of yachting services including, but not limited to:
Complete Yacht Management
Yacht Transporting and Delivery
Fiberglass Repair and Modifications
Electrical and Mechanical Installation and Maintenance
Personal Captain
Yacht Handling Instruction – Power & Sail
Plumbing
Rigging
Surveys – Insurance or Pre-Purchase
Yacht Sales and Pre-Purchase Consultations